Henry Cejudo vs Dillashaw Prediction & Preview
Henry Cejudo vs Dillashaw 2019-01-20 MMA,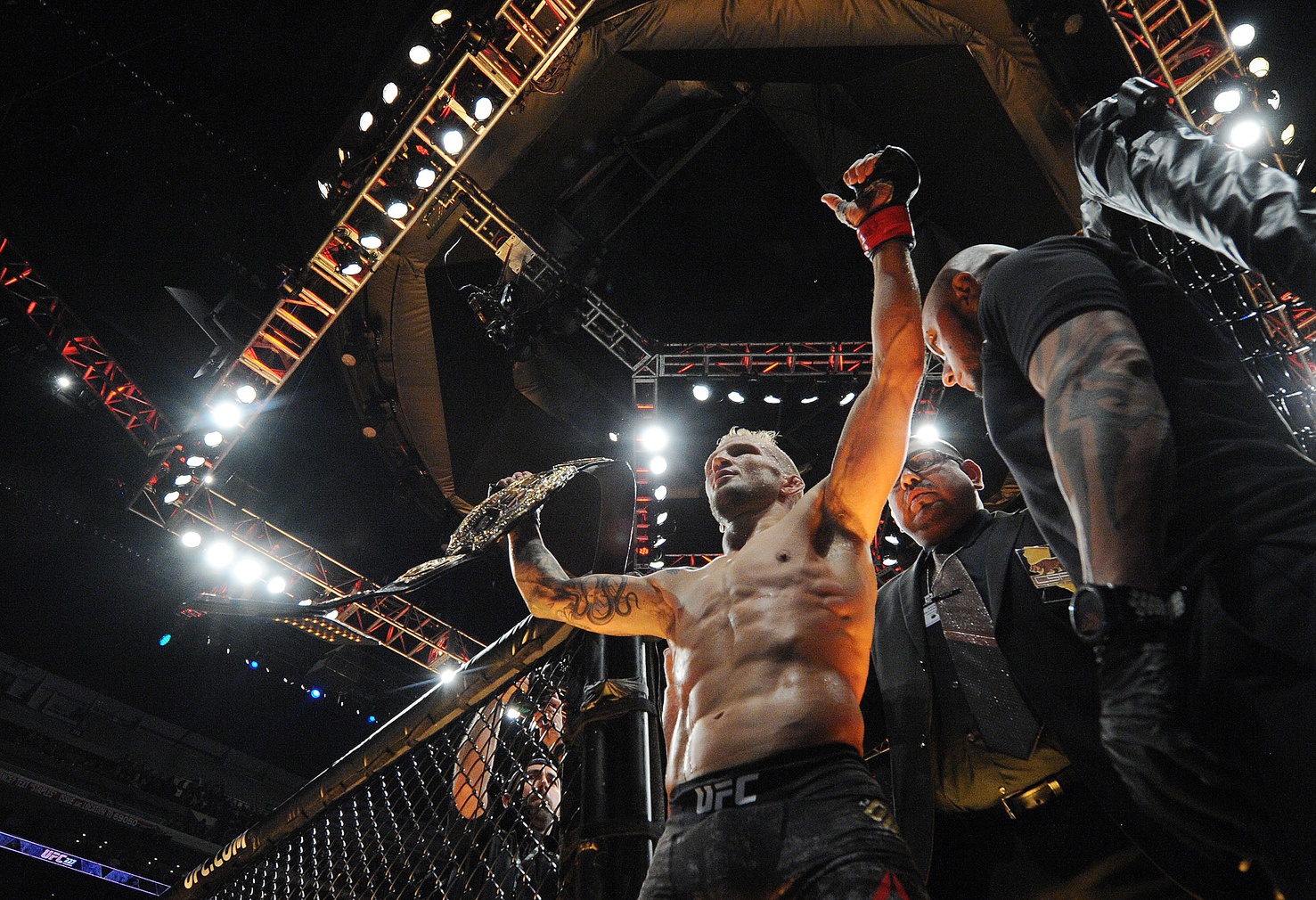 Image licensed from USA Today Sports
On January 19th UFC will be making its debut on ESPN with Henry Cejudo and TJ Dillashaw battling it out for the flyweight title in the main event. Cejudo is fresh of an upset win over one of the greatest fighters of all time in Demetrious Johnson whilst TJ Dillashaw put an emphatic end to his rivalry with Cody Garbrandt.
X-Factors
The biggest unknown in the lead up to this fight is whether or not TJ Dillashaw will make the flyweight limit. This will be Dillashaw's first trip down to 125 lbs in his professional career. What is even more interesting is that even in college, Dillashaw wrestled at a higher weight. Despite the public concern, Dillashaw and his team are confident that he will make weight and do not see it as much of an issue. However, in my opinion, Dillashaw may not feel comfortable at a lower weight and this might affect performance. This is all just speculation but something to consider nonetheless.
Paths to Victory
Cejudo has shown the ability to improve drastically from fight to fight which has led to his striking becoming a dangerous weapon on its own, as shown by his knockout of Wilson Reis. However, I believe that Cejudo's best chance of winning this fight is to use his Olympic wrestling pedigree like he did in his rematch against 'Mighty Mouse'. Cejudo will have to keep the striking exchanges close in the judges' eyes and score takedowns in key moments in order to win rounds.
TJ Dillashaw is one of the best strikers in the UFC and will look to keep this fight standing. Dillashaw's dynamic striking game consists of a lot of movement and finding angles which might prove too much for Cejudo if the fight stays on the feet. Although Dillashaw does not have the Olympic accolades of his opponent, he is a great wrestler in his own right and will be looking to use his wrestling skills to keep the fight upright.
Conclusion
Overall, I believe that TJ Dillashaw is the more diverse fighter. Unless Cejudo is able to consistently take Dillashaw down as well as control him I do not see a realistic path to victory for the flyweight champion. On the feet, Dillashaw should be able to get the better of the exchanges. However, the additional 10 lbs that Dillashaw has to cut are difficult to ignore. This may cause Dillashaw to come in with a more conservative game plan than usual and be more careful in picking his shots in order to not get tired.
Recommended Play:

Fight Goes To Decision @ -135 at 5dimes.